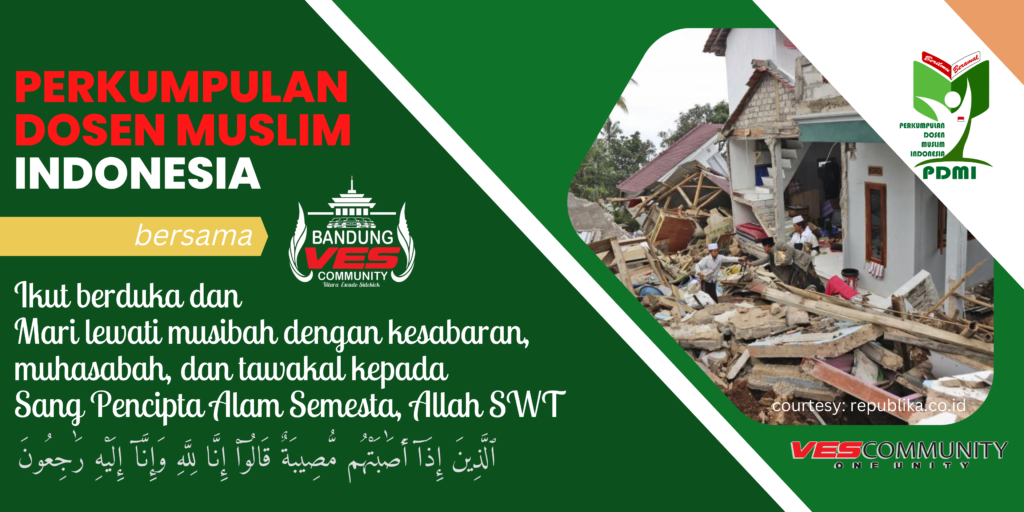 [CLOSED]
Assalamu'alaikum warahmatullahi wabarakatuh
Mr/Mrs PDMIers By the grace of Allah swt,
💫Let us pray to lighten the burden of our brothers and sisters in Cianjur who are currently grieving.
🤝Let's clasp their hands together. Embracing them with affection even if only through our best prayers and infaq.
Please Transfer to
ACCOUNT NO:
BNI = 5527719769
In The Name of Tri Yulaeli
Please confirm if you have transferred, by filling in the following link:
https://forms.gle/aewZtnidxdWmmTay8
thank you 🙏
Chairman,Prof
. Dr.rer.nat Fredy Kurniawan, S.Si., M.Si.
FINAL CIANJUR DISASTER SOLIDARITY DONATION collected Rp. 15.822.133
Mr Djadja Sardjana: IDR 250,000 (tf 22 Nov 2022)
Mr. Muh. Syafei (UMK): IDR 1,000,000 (tf 22 Nov 2022)
Ibu Issy/Pak Rifqi: IDR 300,000 (tf 22 Nov 2022)
Mr. Fredy Kurniawan IDR 1,000,000 (Tf 22 Nov 2022)
Mrs. Servant of Allah Pious : Rp.200.000 (tf 22 Nov 2022)
Bp Candra Ahmad : IDR 200,000 (tf 22 Nov 2022)
Bp Hamba Allah Shaleh : Rp. 1,000,000 (Tf 22 Nov 2022)
Servant of God (Waiting for Confirmation) : Rp. 300,000 (Tf 22Nov22)
Mrs. Sumarni : Rp. 250,000 (Tf 22 Nov 22)
Mr. Edi Wahyono : Rp. 300,000 ( Tf 23 Nov 2022)
Mr. Wirmie Ekaputra : Rp. 250,000 ( Tf 23 Nov 22)
Mr. Servant of Allah Shaleh : Rp. 500,000 (Tf 23 Nov 22)
Mr. Bodhi Darma : IDR 500,000 (Tf 23 Nov 22)
Mr. Servant of Allah Shaleh : IDR 250,000 (Tf 23 Nov 22)
Mother. Nurlinawati : Rp. 1,122,133 (Tf 23 Nov 22)
Mother. lili Marliyah ( Still waiting for Confirmation and proof of Tf) : Rp. 200,000 (Tf 23 Nov 22)
Mr. Achmad Hizazi : IDR 100,000(Tf 23 Nov 22)
Mrs. Halimatussadiyah : Rp. 1,000,000 ( Tf 23 Nov 22)
Mr. Surya Darmawan (waiting for confirmation of transwer proof) : Rp 300.000 ( Tf 23 Nov 22)
Mother. Rahayu Apriliswati M.Pd : IDR 200,000 (Tf 23 Nov 22)
Mrs. Mercy Mantau : IDR 300,000 (Tf 23 Nov 22)
Mr. Joni Safaat Adiansyah : Rp. 250,000 (Tf 23 Nov 22)
Mike's Mother : IDR 100,000 (Tf 24 Nov 2022)
Unconfirmed : Rp 350.000 (Mulasih Asma Sari Tf 24 Nov 22)
Mr Joko Kuncoro : IDR 250,000 (Tf 24 Nov 22 )
Mr Sofyan A Gani : IDR 300,000 (Tf 24 Nov 2022)
Mr. Darma Wijaya 150.000 (From BNI Ternate Tf 24 Nov 22)
Bp Thontowi : IDR 500,000 (Tf 24 Nov 2022)
Ibu Sofia Wantasen : Rp 300.000 (Tf 26 Nov 2022)
Friday Alms UNSRAT MUSLIM LECTURER: Rp.4.000.000 (tf 26 Nov 2022)
Bp Syamsyul Maarif : Rp 100.000 (Tf 28 Nov 2022)
Total : Rp 15.822.133 Alhamdulillah
May the good deeds of Mr/Mrs. be reciprocated by Allah swt with His best blessings… Barakumullahu khairan katsira… aamiine 🤲
PDMI Raises Funds for Cianjur Earthquake Disaster